Before I get to deep into sharing my write ups on some of my modifications,I would like to reintroduce my 1989 Suzuki GS500E motorcycle.The post before this kind of details how the motorcycle came to be mine.I bought it just so I could modify it into the motorcycle I wanted.I have three pages front and back, in a notebook, of modifications that I have done to my motorcycle.Here I will list some of the major modifications and changes in appearance.Many people that see my motorcycle think that it came from the factory the way it looks.That's what I wanted.It's kind of like a sleeper GS500E.Only those that are very familiar with the Suzuki GS500E will be able to point out some of the things that I have done to my motorcycle.I used as much Suzuki motorcycle parts as possible, to try and keep it all one manufacture.Since I couldn't do that on the cheap,I used as many production part as I could from other motorcycle manufactures.The rest is cheap Chinese clones of production motorcycle parts.I have roughly $3000 in my completed motorcycle.Some may argue that I spent to much on a motorcycle that is only worth one third of what I have in it.OK,but I have a motorcycle that will last as long as a new motorcycle,costs less to own than a new motorcycle,and will provide me just as many years of enjoyment as a new motorcycle.Plus,I get the satisfaction of knowing that I built it all by myself.If it gets damaged,I know I can repair it myself, and not have to worry if a shop will repair it properly.So my hats off to those that can throw away their old motorcycle and buy a new one.Better yet,just give me the old motorcycle, and see what I can do with it.
OK so here are the details of my 1989 Suzuki GS500E Motorcycle.I will quote it from a recent forum post I made about my motorcycle.I also wanna give praise to my friend Dgyver for helping me with parts for my projects and modifying some parts to work on my motorcycle.
Here are the build specs.
SuspensionFront
Katana(95) 750 front end-for dual disc bakes and adjustability
Katana 600 upper triple
SealSaver fork seal protectors
15w fork oil-add a little stiffness for better road feel and cornering
GS steering stem swap-was done to adapt the Katana 750 front end to the GS frame
CBR F1/F2 clip ons-these are a must for sport riding and there the only ones that fit my custom application
Katana(89-97) handle bar controls- just because I had them and they fit
Rear
Katana(97) 750 rear shock-stiffer,lighter,and adjustable
Stock GS swing arm and linkages
BrakesFront
Katana(95) 750 stock dual disc
Katana stock dual 4 piston calipers
Katana stock master cylinder
GS brake lever
Russel dual line stainless steel brake lines- better brake feel and more reliable
Ebc HH sintered pads-better stopping for sport riding
Back
Bandit 600 rotor
Katana(98+) 600/750 caliper bracket
GS stock caliper
EBC HH sintered pads-sever over kill/causes lock up if you get to happy with the rear brakes
GS stock caliper torque rod-reworked to clear rear tire
Stock GS rear brake line
Wheels and TiresFront
Stock GS 3.0 inch wheel-same as the stock Katana 750 front wheel so it matches the front end upgrade
Rear
Bandit 600 4.5 inch rear wheel-stock was 3.5 inch and the larger wheel allows me run more common size radial super sport motorcycle tires
GS bearings
Custom wheel spacers
GS cush drive sprocket carrier
Stock 39 tooth GS sprocket
Tires
Shinko 005 Advanced
120-60-17 Front-up from 110-70-17
160-60-17 Rear-up from 130-70-17
Engine Upgrades
K&N Lunch Box Air filter-gets rid of the restrictive factory airbox
K&N Crank Case Breathe Filter-needed after the factory airbox was removed
Carb rejet 40/145/3 turns on the mix screws-must do after exhaust and air filter upgrade
D&D Slipon Muffler-Right side muffler from a Suzuki Hayabusa exhaust kit
SV650(99-02) EBC Kevlar Racing Clutch Friction discs-better clutch grip
SV650(99-02) Barnnet Racing Clutch Springs-better clutch grip and feel
Bob B. Ignition Advancer- help smooth out the power curve
SV650 Racing 1/5 turn throttle tube-more like 1/6 on the GS-faster to full throttle
JTS 15 tooth engine sprocket AKA output sprocket
Body and Frame
Buell knock off turn signals-upgraded flasher relay for signals/EL-12 Electronic-stock one needed a lesser load-new signals are brighter
No Name Ebay mirrors
Targa 1/4 Fairing
Targa Chin Spoiler
05 Large Style 5.5 gallon Gas Tank-original was 4.0 gallon
Stock GS tail fairings
Stock seat(building a custom seat/not finished yet)
99 Yamaha R1 Clear Alternatives Tail light-brighter and easier to see during the day
Bandit 400 Front Fender-stock gs fender was to small to cover the new tire size
GSXR 600 Bar ends (early to mid 90's)-helps eliminate some vibration through the handle bars
Custom Gauge mounts and Upper Fairing Stays
These pics make the rear end of my motorcycle look twisted,but it's not.I think the plastic leans of the camera on my cell phone was messed up.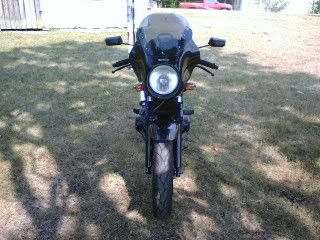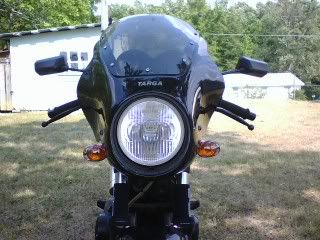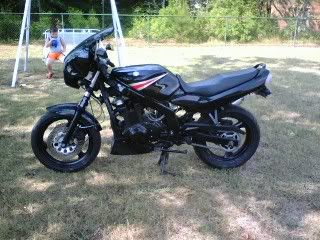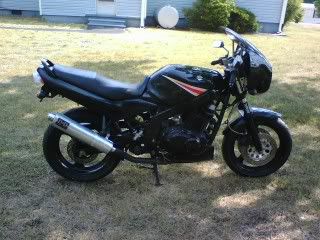 The twist in the rear end is a fluke of the camera.