The ugliest thing ever put on a motorcycle is those huge but flaps,I mean mud flaps,that are used in place of a rear fender.First thing to do is loose that crazy huge fender mud guard flap thing.This is known as a fenderectomy in the Suzuki GS500 crowd.There are varying degrees of fenderectomies.I label these versions as extreme cut,the high cut,and the half cut.Before you do a fenderectomy,please be aware that your license plate will not have any support behind it, IF you do an extreme or high cut version.No support, or wind block, allows the license plate to flap about in the wind.This leads to the tag breaking off at the mounts.Some people use metal supports, or metal license plate holders.While others opt for the free half cut fenderectomy.I was convinced by another GS500 owner that this would be a better choice for me.
FENDERECTOMY
Here is a description of the three versions of fenderectomies.
EXTREME CUT!-This is cutting the fender liner flush with the bottom of the rear body panels.It also requires that the turn signals (AKA directional indicators) be relocated to the rear side body panels and the license plate be remounted or moved.Most people I have seen do this use aftermarket flush mount turn signals and license plate holders.I do not have any pictures of this, or I would share them.Also make note that all states have specific laws on how license plates are to be mounted.Check your local laws to make sure you are within the laws for license plate mounting.
HIGH CUT!-This is cutting the fender liner about a half inch below the factory turn signal (AKA directional indicator) and leaving the area where the license plate mounts.
HALF CUT!This is cutting the fender liner at,or near, the bottom of the license plate.This fully protects the license plate and prevents the plate from cracking or breaking off.It also helps keep the back of your motorcycle clean if you ride in fowl weather.
MAKING THE CUT!
You need some way of marking the area to be cut and a straight edge to make sure the line is straight.I used masking tape to make my lines and then cut everything below the tape line with a Dremel.A hand hack saw can be used.A regular hack saw may not have enough throat to make the cuts.The rough cut edges can be cleaned up with 80 grit sand paper and a sanding block.I don't have any pictures of me doing this, so all I can offer is before and after pics.
BEFORE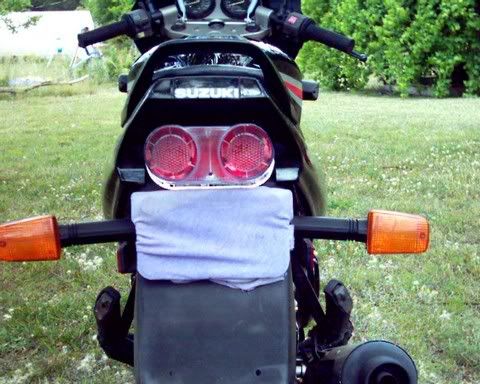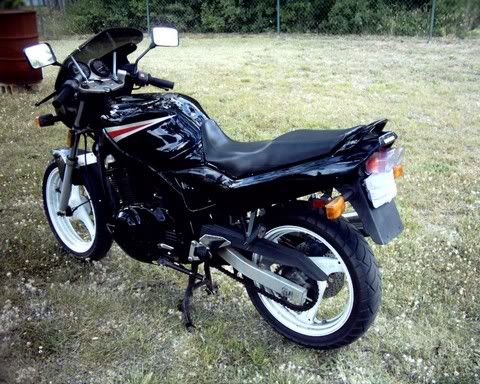 AFTER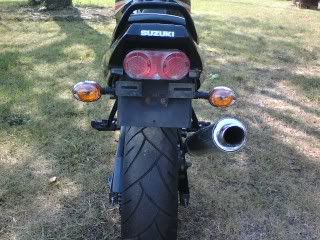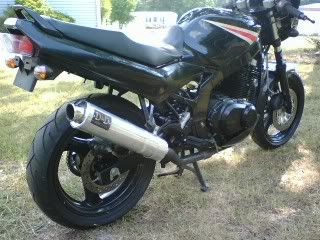 The second ugliest things put on any motorcycle, is those old bicycle reflectors for safety.There are better ways to make a motorcycle more reflective and still be stylish about it.Thank you aftermarket accessory companies.They are geared toward safety.Almost all motorcycle accessory websites carry reflective tape and rim stripes/strips.These come in various colors to accent, or blend into your motorcycle.They are made with a reflective material that looks like a custom stripe or decal.When a little light shines on them in the dark,they light up like running lights.Some are bright enough to be seen up to a mile away, with the slightest light source.Doing some research will bring up the good ones to purchase.I haven't add these to my black 89 Suzuki GS500E yet.I don't ride it at night.I plan my trips to fall within daylight hours.My other motorcycles will have them.
Motorcycle Reflective Decals
Reflective Rim Stripes
REFLECTORECTOMY
Along with the fenderectomy I did a reflectorectomy.It is basically removing the reflectors on the forks and below the rear side body panels.This is easy to do.A small wrench,10mm and 14mm if I remember correctly,and they can be sent to the spare parts box.However,you will need to re-torque the fork pinch bolts to 18-29 foot pounds.Check your local auto parts stores, and see if they have a tool rental/loaner program.Better yet,ride in and do it there.They may not charge anything,and possibly even do it for you.
BEFORE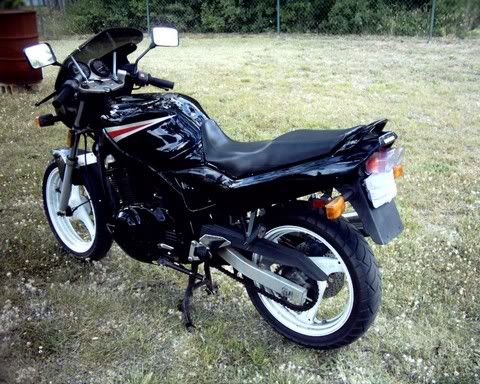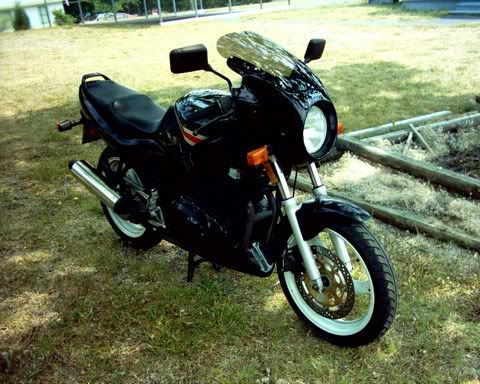 AFTER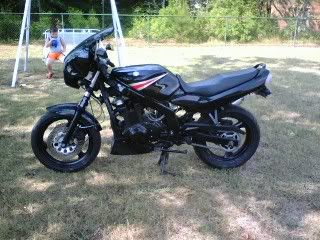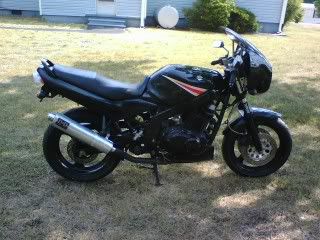 ON ANOTHER NOTE.
Even if you opt out of the reflectorectomy,you still need to keep an eye on the front fork reflectors.Over time these things get bent from bouncing around and will make contact with the forks causing damage to the slider and seals.This can get very expensive,if you don't know how to repair forks.